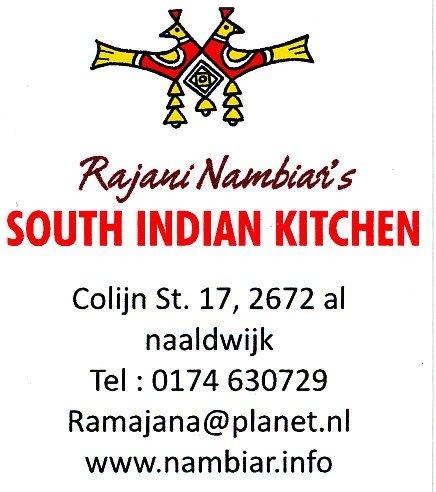 Heerlijke Zuid Indiase keuken.
Bij mij thuis in een aangename sfeer geniet U ontspannen van autenthieke verse vegetarische Zuid-Indiase gerechten.
Het aantal plaatsen is beperkt, hierom is op tijd reserveren noodzakelijk.
En als U zelf Indiaas wil leren koken, zijn er regelmatig kooklessen.
U kan ook buiten de wekelijkse dagen ons bellen voor groep lunch/dinner met een minimum van 6 en een maximum van 15 personen, om dit te regelen moet U twee dagen van te voren bellen of mailen.
Voor verdere info over de Zuid Indiase keuken of kookles, bel of e-mail Rajani.
This is a private kitchen for authentic food from South-India. Udupi vegetarian cuisine is the speciality, however non vegetarian Seafood only is available on request.
KvK:24386375
Thali lunch veg.& non veg Seafood only- once a month 1pm to 3pm max. 15 guests.
Call or mail for information and to reserve.
We are open only on Friday evening from 7pm to 10pm for dinner on prior notice.
Wij zijn open alleen op Vrijdag avond van 19:00 tot 22:00 uur (reserveren is nodig.)
Please check my facebook page before you proceed. All information about food is available there. You need to reserve atleast by Wednesday.
On all Friday's 7 pm to 10 pm max. 15 guest. € 17,-p.p. Kids below 5 Free, above 5 below 10 €12,- above 10 below 18yrs. €15,-.
fixed-menu: A starter, 1x masala-dosa, 1x plain-dosa, 2x idli, 1x upma, 1x sheera/khesari plus an extra Rice item, sambar, coconut-chutney,etc. cofee, tea and fresh lemon juice.
E.Mail to our new e-mail id ramajana@caiway.nl
Special Sunday Lunch price: €18.- p.p.Veg, €20,- non Veg. (seafood only) kids below 5yrs free, above 5 below 10 €12,- above10 below 18yrs €15,- Lunch/dinner any other day of your choice price can vary.
New!! Simple vegetarian dinner (takeaway only) consisting of rice, lentil curry and a stirfried vegetable availeble monday to friday on a special price of €8,00 p/p call before 12 noon to place order. Food is available from 5pm to 8pm.
Apart from this, we have special arrangements for groups breakfast/lunch/dinner for a minimum of 6 maximum 15 guests on weekends (Saturday and Sunday). Price will be (lunch/dinner) €18,-Veg, €20,-non Veg. €25 (both fish and chicken) giving us a minimum of two days notice. Mail to ramajana@caiway.nl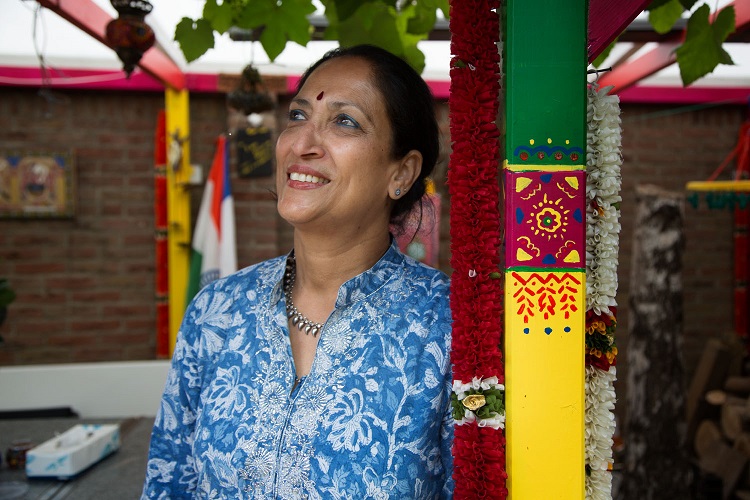 Photo made bij Foto Piek fotograaf Piek.
My support to Kakumkarangal Chennai, NalandaWay.org Chennai, Karuna animal shelter Bangalore and Hippcampus learning-centre Bangalore. For the year 2013 we support Michael Wartmann's project for Selco foundation.org India.2014 Perinjanam L.P.West school in Perinjanam Trissur Kerala. 2015 donation to Sri N.Madival Udupi and to two kids in Bijapur for their later study.
2015/16 Vasant and Family in Perampally,helpt him to complete his house he had started building in 2010.
2017: Appu from Perampally Udupi.............